For the workshop 'Remixing Sanssouci – Plant the Exhibition' I developed a video and data walk which guides the visitors through the park Sanssouci and informs about its history, architecture, art and development. The participants carry printed maps with numbered locations, once arrived at the location they are asked to play the corresponding pre-downloaded video clip on their cellphone and walk along with it.
The videos show the same location as the visitor is standing at. This superposition of similar location but different season, light, time of the day, or people walking by creates a certain kind of (low-tech) immersion. A voice-over informs about what the visitor is seeing and passes through. While moving along the videos through the park, the participants are asked to collect data: three different data walks highlight the park from another angle 'Anthropocene and Nature', 'History and Culture' and 'Arts and Aesthetics'. Through various questions and tasks the visitors occupy themselves with the park in relationship to the human influence on its nature, its colonial past, or the architectural development over centuries. With the help of apps on their phones they are asked to collect digital data such as fotos of surfaces and materials, sound recordings of various water sources, or 3D-scans of statues. Along those digital tools, they also draw analog diagrams and collect physical data. This data is being used as a base to create digital remixes in order to create postdigital art projects.
The first video starts with a Google maps fly-through from outer space into Sanssouci palace.




While the voice-over informs about how the park changed over the centuries, historical photographies blend in with the video.
Alongside historic imagery and GIFs, pictures from Instagram tagged to the video location #sanssouci merge in with the video clips and create a postdigital superposition.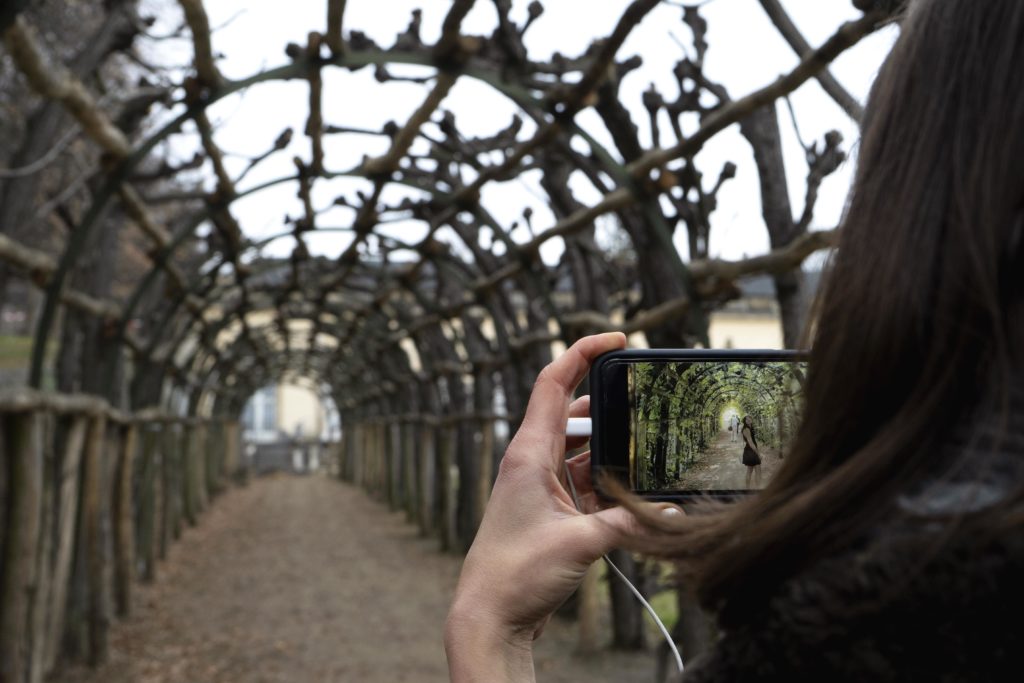 Here the six video clips can be downloaded together with the map and the three different data walks.
Every team completes one of the three different data walks:  'Anthropocene and Nature', 'Arts and Aesthetics', 'History and Culture'. Along the topic the team members have to collect specific data in an analog and digital fashion. This data includes pictures, 3D-scans, sound and video recordings, as well as collected items human left in nature, drawings of their routes and diagrams. The data walk serves as inspiration for digital remixing practices of nature, as well as demands the participants to take a closer look, to focus on things they would usually oversee, and to discover connections between the park and the human influence in nature,  post-colonial legacy, or artistic evolution. Later the participants will use the collected data to produce postdigital remix projects.
Tools
– pen and paper
– smartphone with:
* camera for fotos and videos
* audio recording app
* pre-installed 3D-scanning app
*GPS/Google Maps
Themes
Anthropocene and Nature
Arts and Aesthetics
History and Culture